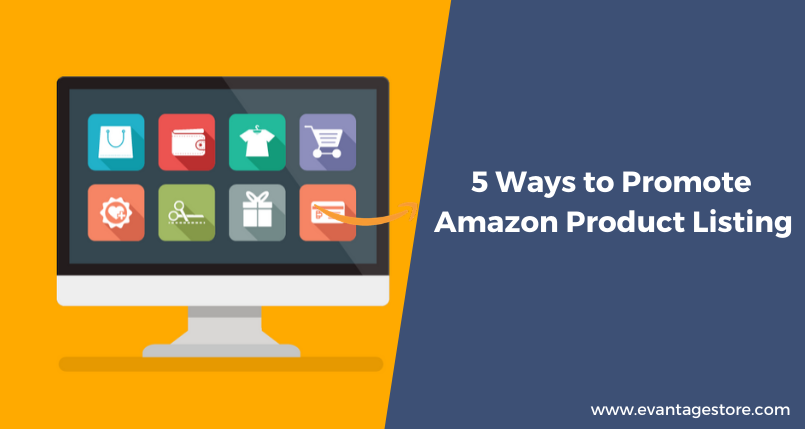 5 Ways to Promote Amazon Product Listing
Amazon provides 5 different effective promotional tools for the sellers. You can use these tools to promote your listing on Amazon.
By Offering Free shipping - By providing free shipping to your customers. By doing that the customer will be interested in your product and thus your sales will be improved.
Money Off - You can offer the product on a discounted rate than it can be listed as 'reduced'.
By one get one - This type of promotional tool is very old but can create a lot of impact on your business. In this type, you offer 1 product free with 1 purchased product to your customers.
External Benefits - You can offer loyalty points to your loyal customers by doing so your relationship with your faithful customers will be strengthened.
Giveaways - It's a new promotional tool introduced by Amazon. Product can be availed as a prize for a giveaway.
​More Ideas To Promote Amazon Product Listing
Here are some ways to promote the Amazon product listing. While you're promoting you must maintain a Track record of rank improvement with the help of Amazon Product Tracking Software to measure the outcomes of your promotion.
Coupons
If your subscriber list is very extensive. Then targeting them with the coupons would be the best idea. Coupons are very appealing, they can increase the open rate and also make your communication With your subscribers more fascinating. Normally sellers send coupon codes with the shipment to motivate repetitive sales and increase loyal customers.
Discounts
Due to updates in Amazon's reviews policy now sellers can not exchange reviews with free or discounted products. But still, discounts are a good tool to increase your sales remarkably because everyone loves discounts. More sales mean improvement in Amazon product ranking so making less profit in the short term and improving your rank rapidly is not a bad deal, as in the long term it will improve your sales.
Lightning Deals
Lightning deals are the quickest way to promote and sell your product on Amazon. It gives a sense of urgency to customers as products are limited in number with a limited time offer or even a reduced price offer. customers do not have too much time to think so they want to grab the product as soon as possible because of attractive prices. Amazon price tracker will help you to get to know the price trends of your opponents and then you can track Amazon's price history. After that, you can commence your action plan by offering lightning deals to counter the price fall.
Lightning deals are pre-approved by Amazon and the best thing is that there is a separate page on Amazon for listing these deals. The discount which you offered must be 30% more than the real price of your product in the last 30 days. You may increase the price 30 days before your schedule of lightning deals to offer an even bigger discount.
Amazon PPC
Sellers and vendors can use Amazon Pay per click (PPC) to promote their products on Amazon. You can even set up an Amazon PPC campaign from seller central. Your ads will be shown on the Top and Bottom of Amazon search results pages. These Amazon ads can promptly increase your sales. Just imagine being on the 5th page on organic search results and with an ad, you will be jumping right on the top of the first page, this can significantly improve your sales and rank.
Banner Ads
Being the part of Amazon marketing services Banner ads are available to vendors only unlike the pay-per-click ads. Banners can be visible on the search result web page whenever you type relevant keywords or on the top of product listing pages.
By using any of these promotional tools for improving Amazon listing optimization, you should always keep an eye on it with an Amazon rank tracking tool. That can show your progress on your investment. In the comment section below please feel free to share your feedback and experiences with us about the promotional tools that you used.