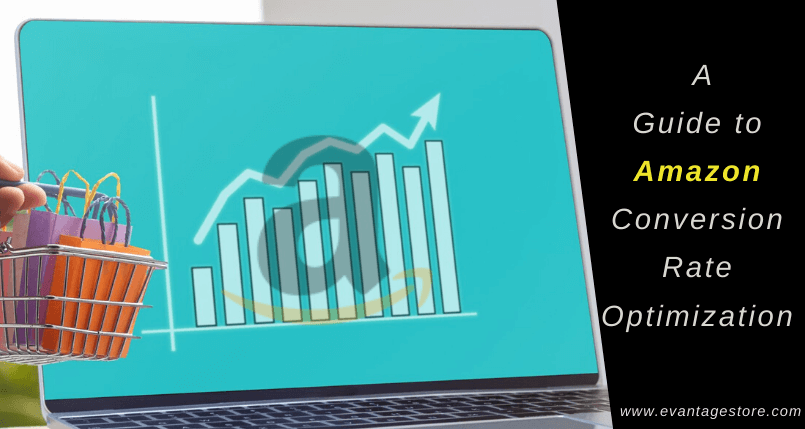 A Guide to Amazon Conversion Rate Optimization
As a seller on amazon, you compete with more than one million minimized small businessmen.
To achieve your targets, it is necessary for you to go beyond Search Engine Optimisation and pay per click advertising. They do make your business grow but they work better when combined with Conversion Rate Optimisation (CRO).
Amazon's CRO helps in making your business a revenue-driving product listing as it helps you to discover the copy, photos, and keywords that match your customer's expectations and encourage them to buy the product.
What does Conversion Rate Optimization for Amazon mean?
Amazon's CRO performs a split test (also known as A/B testing) to check which product outperformed the other, based on some predetermined metrics such as orders.
Usually, in such kinds of tests, one of either things i.e. product title or product description is changed.
Testing one product at a time will give better results and help you find auctionable claims. Refer to the following instance for better understanding.
If you sell phone cases and what to sell more, then perform A/B testing with two different product images. Image A is the one with a white backdrop and let image B be used as a product i.e. it is already used as a phone case.
In the results, if you got to know that image B performed better, and if in several other tests based on different criteria, product 'B' stood out then you can decide that all the product pages should include images of your product-in-action.
Should sellers be worried about Conversion Rate Optimisation?
If you're a seller and are reading this, then you should try CRO as it helps you to:
Improve sales and revenue;

It gives you insightful data regarding your readers, and

It provides design, pricing and copies insights that you can apply across different products.
You can get a competitive advantage. Using the test results and audience insights, you can easily make changes according to your user's requirements.
What all can be tested on amazon?
There are no built-in tools for CRO present on amazon, but still the following elements:
Product title

Product description

Product feature

Product price

Product main feature image, and a bunch of other elements.
The above-listed elements tend to affect your product the largest. For instance, your product title can push users to click on it and the price can excite them to buy the product.
How to perform Conversion Rate Optimization on amazon
As now you have an idea of how conversion rate optimization helps your products, so you might want to use it as well. For using CRO, the following five steps should be followed.
1. Deciding the way to measure CRO
Amazon does not provide the sellers with any CRO tools, therefore the two options left are
Manually tracking the results, and

Using amazon specific CRO tools.
Manual tracking can be a very hectic and time-consuming task as the user might have to perform results in a specific time duration and also change your listings from product A to B.
It becomes practically back-breaking to set aside a few hours every week to manually perform CRO, this is the reason the sellers use websites to measure their CRO.
We at Evantage Store can help you to perform the A/B testing in a few steps and help you remove a burden off your shoulders.
1. Choose the product to be listed
When you begin using CRO, it is better to focus on the products that will turn out impactful for your business.
Depending on the strategy, you can opt for the most profitable products which will help you in bringing good traffic for the page. If you chose a low-selling product that might take months to give you any actionable data.
2. Building a hypothesis
Once you know what products to list, then you can build a hypothesis mentioning the questions you want to ask.
Your hypnosis should always answer the following questions.
What is the problem with the page?

How to fix that problem?

What effect will the solutions have on the problem?
You can skip this step to save time, but it turns out to be useful to know what your page needs. It also checks that your page has a specified goal that compliments your reason to test.
3. Launching the amazon CRO test
What are you waiting for? What you're ready to launch your Conversion Rating Optimization on amazon.
For that, you can either visit a website or perform the test manually. But for either of the things to happen, you must set a timeframe to run the two types of tests. You may run the first test in a week and the second test in another.
Setting schedules and logging results are one of the most important steps in conducting CRO.
4. Reviewing the results
After you perform the tests, it is necessary to check them every day or every week based on the traffic your product receives. A proactive approach must be taken on the basis of your results.
The duration of your CRO tests will depend upon your audience size and results. For a better view and understanding, we suggest you to not stop the tests until you get a clear winner.
Three Amazon Conversion Rate Optimization Tests to try
If you are a beginner and you are planning to try CRO then you must go for the following tests:
1. Product Image
You can use the following ideas if you are looking for product image testing:
Change image order

Uploading the images of the product in action

Including image size and materials

Testing different product angles

Adding the product packaging
The basic idea of whether you use CRO or not is to use high definition and good quality images.
2. Product Features
You can get the best results when you know what benefits your users. You can perform the following tests for the product features:
Making the features for the benefit of users versus the company.

Adding features that highlight the product's competitive advantage

Trying different lengths for the product feature (short or long)

Mentioning the quality and security guarantee

Maximizing the word count
3. Product Description
Your product descriptions are for your shoppers, hence it is necessary to add a good one. You can perform the following tests for product description.
Writing a description of what the product is versus the way users use the product

Using headlines to define different features and making it easier to read

Adding adjectives to senses

Mentioning product features in the product description

Experimenting with the use of keywords.
We at Evantage Store can help you to conduct Amazon's Conversion Rate Optimization for your products and build better product listing.